Downtown Ft. Worth has many <> things to recommend it, but one of the most majestic is the beautiful Bass Performance Hall.
Located in historic Sundance Square, just across the street from the famous Flying Saucer Pub, the Nancy Lee and Perry R. Bass Performance Hall Complex (as it's officially known) takes up the entire block bound by Calhoun, Commerce, 4th and 5th streets. It's described in its literature as "the crowning jewel of a city which boasts the nation's third largest cultural district," and yes, it definitely is that. Poor Dallas; compared to Ft. Worth, the Big D's pretty much a cultural backwater, and the existence of the Bass — which would not be out of place in New York or the Continent, incidentally — just makes it all the more obvious.
That's not to say that Dallas doesn't have some pretty nice culture, as I hope I've made clear in these pages by now; on my side of the Metroplex, we've got the Dallas Opera, the Majestic Theatre, Deep Ellum, and much more. But our culture is more often the popular kind than the classical. Let me hasten to point out that there's nothing wrong with pure old-fashioned entertainment. I'm all for it, when I can afford it; baseball, beer and billiards are all fine ways to blow off some steam, and they're hallowed by Texas tradition. But if you want to put on the Ritz, Ft. Worth offers more and better opportunities to do so than Dallas, and the culture snobs up North have less to sneer at.
Um, sorry if you're one of the above. I hear they have a treatment for that now.
But back to the Bass Performance Hall: this 2,056-seat hall is designed primarily for musical venues, and as such was built in the classic European opera house format. I've never had the pleasure of attending a performance there, but by all accounts the acoustics are magnificent. I'm more interested in the architecture, actually; I've never been one to sit still for concerts. The Hall was built entirely from private funds — presumably from the Bass family, one of the area's most prominent and wealthy clans — and my understanding is that it contributed a great deal to the cultural revitalization of downtown Ft. Worth. At the moment, it permanently houses the Texas Ballet Theater, Fort Worth Opera, and the Fort Worth Symphony Orchestra, and it's the perennial venue for the Van Cliburn International Piano Competition and the associated concerts.
The Hall is just now coming up on its tenth birthday, having been completed in May 1998. The exterior is made primarily of pale Texas limestone, with tasteful gilding here and there, and is crowned with an artfully-painted interior great dome. In my opinion, the most impressive features of the Bass Performance Hall are the twin angels decorating the Grand Façade on 4th Street side of the building, which were carved by sculptor Marton Varo.
Each of these ladies is 48 foot tall, is magnificently carved from the same Texas limestone that covers the building, and, as you can see, is blowing a gilt trumpet. They're blowing them at the Barnes and Noble across the street, but you know, it's the principal of the thing, and helps make them look Very Artistic. All kidding aside, they're very beautifully done, and most impressive in person. It's hard to see in this picture, but the gilt lettering running along the lintel between them reads:
NANCY LEE • BASS PERFORMANCE HALL • PERRY R.
1998
The place is just as opulent inside as out. When I visited, about ten days before Christmas 2007, the place was overrun with school children (which explains the school bus visible in my first photo), and the access to the general public was limited; thus I didn't get into the auditorium, as I had hoped to. In fact, I was genteelly asked if I could be helped after I'd snapped a few photos, which I took as my cue to head out. In any case, as you can see, the interior (just inside the front entrance, at least) is a wonderland of highly-polished marble, metal and glass, and it's obvious that the new hasn't worn off yet. (And yes, I did happen to catch a family getting its picture taken at the Christmas tree. This was not planned.)
Here's a picture of the staircase leading up to the auditorium. It's not incredible or anything, but I think it's quietly classy. I like the juxtapositioning of the cold steel rails and extremely shiny marble of the stairs. Or is that dolomite? I never can tell.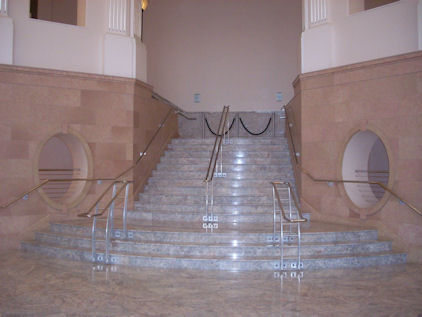 It's easy to hyperbolize when discussing the Bass, and I've done it quite a bit here with my descriptions of it as magnificent, majestic, opulent, etc., etc., which in fact it is. When I did my research after my visit, I wasn't surprised to learn that, as far as I can tell, it has earned exactly zero architectural awards. After all, it's neither starkly utilitarian nor sufficiently ugly. Nor does it do things like "make clever use of interior space to bleakly illuminate the anomie of modern city life" or "peel back the veneer of bourgeois artifice and artfully pour salt in the wounds of our pretences," as buildings that usually get those awards do. At least, I don't think so; as far as I'm concerned, it's just a damn fine looking building. But what do I know? My education's in the social sciences.
For more information on Bass Performance Hall and events scheduled for the coming months, check out its website at http://www.basshall.com/.