This weekend I was fortunate enough to attend this year's ARTFEST, an institution that returned to Fair Park after several years of being celebrated in Addison. Thanks to a very nice lady named Susan Friedman, who handled the PR for the event, I even got free tickets (thanks, Susan!). Of course, I would have attended anyway, but I'm never going to turn down free.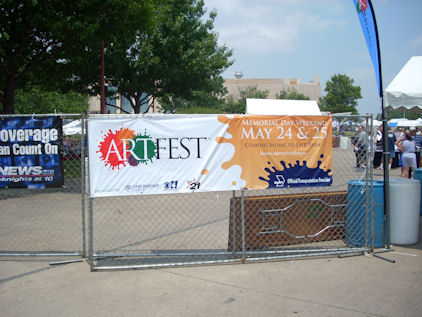 The 39th incarnation of Artfest, this year's event featured a tasty wine stroll on Friday evening, as well as an extravaganza of art and music that continued from 10 AM-7 PM on May 24-25. As always, Artfest was organized by The 500, Inc., a local group that supports the arts in Dallas County, and benefits a variety of area arts organizations (including the Dallas Wind Symphony, Kitchen Dog Theater, and Voices of Change). Last year, they distributed $30,000 to eleven organizations, most of which they raised through Artfest.
As it just so happens, Artfest fell on the hottest day of the year so far (BTW, I'm going to dispense with the all-caps thing for the rest of the review). That's nobody's fault but Mother Nature's, of course, but I'd like to point out that the temperature was an asphalt-melting 95 degrees in the early afternoon, which is when I attended. Saturday the 24th was one of those horrible May days that foreshadow the Dallas summer, which is, frankly, best experienced elsewhere. But despite the heat, plenty of people attended, bless 'em.
As with most such festivals, Artfest offered a mix of artist booths, vendor booths, displays from local businesses (including Time-Warner Cable and The Home Depot), and of course high-priced festival foods and drinks that you had to purchase with coupons, much like those from the State Fair. There were also a couple of radio stations present, including KLIF Talk Radio and a rock station called 93.3 The Bone. Between their two booths was this sweet display of mechanical art, otherwise known as Harley Davidsons.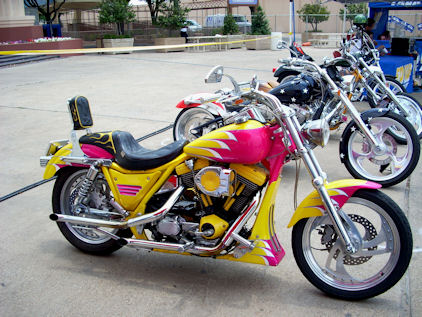 There was also a large children's activity area, which was blessedly located in Fair Park's Grand Hall, where it was reasonable cool. Among other attractions were Box City, where kids could go through the permitting process and get permission to build their own buildings out of boxes (decorating them as they went along, of course) and tables where they could decorate their own Artfest T-shirts with colored pens. Some of the shirts turned out pretty darn good.
Of course, outside you found the standard bounce house (Superman, in this case), as well as one of those combination trampoline/bungie contraptions I've seen around a lot lately, including at Scarborough Faire. This young lady was particularly daring, I thought.
Of course, the whole point of the Artfest was, unsurprisingly, the Art — and there was a lot of it, of both the plastic and the musical kinds, from hundreds of different artists. As far as music goes, I spent a little time at the mercifully covered stage next to the Old Mill Inn, grooving to the Inner City Allstars. They were a cool, jazzy combo of mostly brass, with a drummer and keyboardist added, and they were an enjoyable break from the hustle and bustle. Not to mention the heat!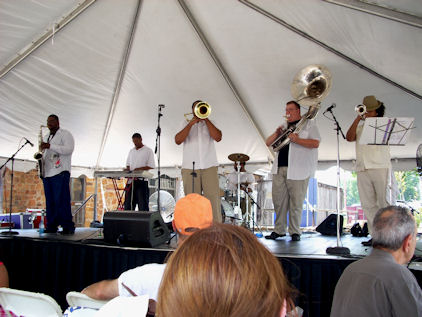 There was plenty of other art, some of which (like the Carole Fleischman's Fried Cats) that I recognized from other recent venues. I have to admit, sheepishly, that my photos of her booth didn't come out (sorry, Carole, I'm still a subpar photographer), <> but I got some other good photos. There was a little bit of everything present: ceramics, glasswork, drawings, paintings, sculpture of many types, mixed media, etc. As always, what you see here are representative of a much larger selection that I had a lot of difficulty paring down to fit my limited venue.
First up is this exquisite turtle by Jassi Designs, which appears to be made of shiny copper covered with some kind of semi-precious stone resembling turquoise, but which probably isn't.
I loved this sculpture. They do a lot of stone inlaid turtles like this one, but they also do frogs, elephants, fishes, giraffes, and other critters, including horned toads — or as we called them in all innocence when I was a kid, horny toads. That's because they're covered with little horns.*
Rod Garrett there as well with his colorful acrylic sculptures, which I've encountered before but didn't manage to include in any other entries. Well, here you are! Notice that I stood well away from these sculptures, as the old saying "bull in a china shop" kept coming to mind. The fact that they were acrylic probably means that they could have survived my attentions, but I didn't want to take any chances.
I was also particularly taken by Juan Zavala's Artistic Alchemy, which consisted (among other things) of wonderful welded metal wall hangings. I'd love to have one. He also does wine racks and other lovely artwork.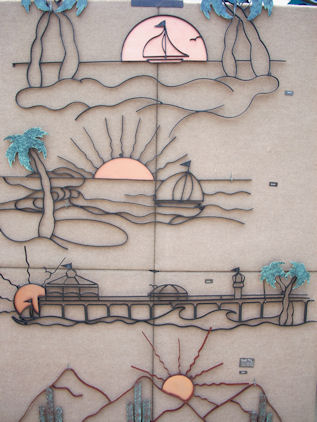 Finally, they also offered a nice silent art auction, where people bid on items offered up for sale by the vendors. I didn't bid on anything, but I enjoyed looking at the items up for sale.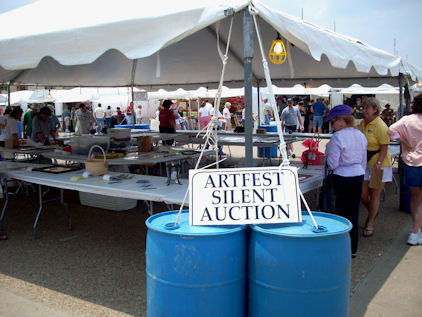 As usual, I just don't have the space to talk about everything I saw and did at Artfest. Let's just say it was a great excuse to look at art, enjoy the creativity of other people, be jealous, and wish I could afford some of their work for my personal spaces. I'll tell you what: if I win the lottery anytime soon, I'll be eagerly awaiting for the 40th Annual Artfest, so I can buy one of each.
Artfest was great, but sadly it's over for the year. For more information on next year's dates, haunt their website at http://www.artfest500.com/. Don't miss it next time it swings around — it's well worth seeing!
*Incidentally, despite the fact that Texas Christian University calls their horny toad mascot a Horned Frog, no one else in Texas would call it that. Just thought you should know that.