I've mentioned before that you can usually find something cooking at Trader's Village in Grand Prairie, generally in the venerable Green Expo — and this past weekend was no exception.  On June 21, the day of the wonderful Summer Equinox, the local Filipino-American population celebrated their equivalent of Independence Day:  Philippine Republic Day, which by the calendar is actually June 12. Of course, the 21st was an auspicious day for celebration, and so it was chosen for the observance.
Like many events that occur in and around the Green Expo, the PRDC wasn't huge, but it was interesting and fun.  There were a lot of people there, too, mostly enjoying the food.
Speaking of food, there were all kinds of Filipino delicacies available, most centered around fish and rice. They weren't inexpensive, but the money was going to good causes, so no worries there. Here's a shot of the menu.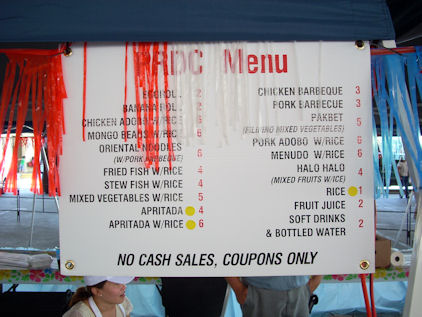 Incidentally, notice that thing about "Coupons Only"? That's not a PRDC thing; it's something Traders' Village seems to do for all the festivals they host. Think of it as kind of like the tickets you get at the State Fair, only more expensive; these cost a dollar each. Fortunately, the ticket booth was easily accessible, being right in the center of the pavilion.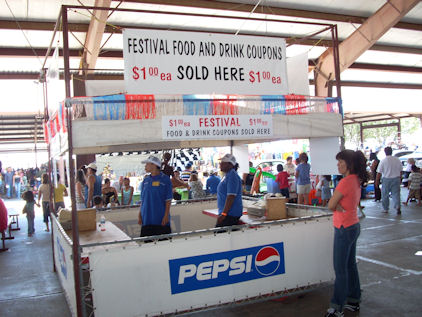 They weren't all that busy while I was there, but they obviously had been; there were literally hundreds of people eating, and the food wasn't exactly free.
I was hoping for more fun and games as well as cultural exhibits, like they had at the Tet-in-DFW celebration back in February, but no dice. The various local Filipino groups were present in strength, though, including the famous FAANT:
FAANT being the Filipino-American Association of North Texas, Inc. I like their banner; they've got a nice juxtaposition of the Philippine and American flags there, joined as they are by the silhouette of the State of Texas.
And don't get me wrong, there was entertainment available; I just happened to miss most of it (and ain't that my luck?). Apparently there were bands and other acts during the course of the day. Here's a view of the Main Stage, which was graced by a huge example of the Filipino flag.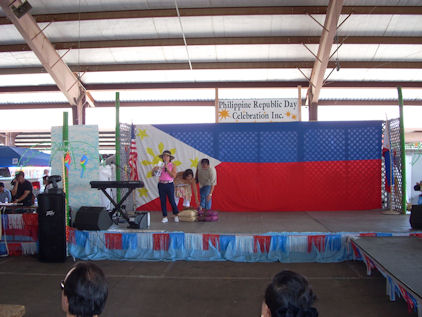 I managed to walk in just as a number of beautiful young women were filing off the stage. They were replaced by this nice lady and her assistants, who were apparently raffling off something. From what I could gather, she was a real estate agent who was giving away free vacations or something. She seemed very nice, but made it clear that she was going to call out peoples' names only once. Apparently, quite a few people missed out because of that, possibly because her accent wasn't exactly standard. Sorry, ma'am, I don't mean to be rude, but it's true.
And by the way, that wasn't all the entertainment on hand. I didn't take part (I am notoriously unlucky at this stuff), but there was apparently a bingo tournament on hand. In fact, someone called a "Bingo" just before I took this picture, much to everyone else's consternation. Which reminds me of a good old joke: how do you make 100 little old ladies say "Damn!" all at the same time? Yell out "Bingo!" Heh heh. I got a million of 'em, folks.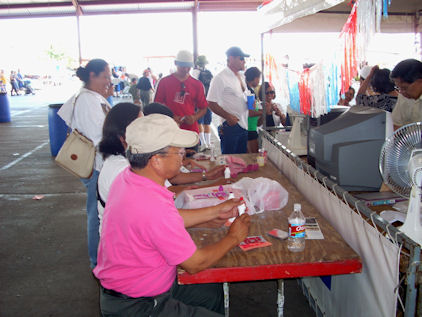 The PRDC is over for the year, and a great time was had by all. The food was good, it was a fun introduction to yet another of DFW's myriad cultures, and while the weather was torrid, it was tolerably cool under the Green Expo pavilion. If you plan to be in DFW in mid-June next year, take the opportunity to visit and enjoy the ambience.
And remember, even when you've done and seen everything and you've tasted all the native foods, you're still in the middle of one of the country's biggest open air flea markets — so hey, you might as well make a day of it. Keep an eye on the Trader's Village event's page at http://www.tradersvillage.com/en/grandprairie/festivals for details as to when and where it's happening in 2009, along with a variety of other affairs. There's still the 46th Annual National Championship Indian Pow Wow in September, and who could miss the 25th International Barbecue Cookoff in October? Not me!