On the northwest side of the DFW metroplex, just a few miles from downtown Fort Worth, you'll find what's left of Niles City. Back in the second decade of the Twentieth Century, Niles City was, briefly, one of the richest towns in the world, which was rather remarkable given its size: it covered no more than 1.5 square miles at its largest. Among other things, it included a petroleum refinery and pipeline, a cottonseed oil company, several grain elevators, two meat packing plants — and the Fort Worth Stockyards.
The city of Fort Worth has since grown up around what used to be Niles City, and the area's now a nice mix of residential and commercial neighborhoods, with the occasional crumbling warehouse dotting the landscape. The big firms are gone, including the Armour and Swift packing plants, which pulled out in the early 1960s. The Stockyards have survived, though. They originally grew up to serve the meat packing plants; it was there that the animals were housed and fed until it was time to turn them into sausages and potted meat. Over the course of fifty years or so, tens of millions of animals were processed through the Stockyards, including 30,000,000 hogs alone. That's a lot of pork.
The Stockyards survived the loss of the packing plants and the gradual evolution of the local area by becoming a mercantile district of a different kind. Nowadays, it's a mélange of historical and commercial enterprises all held together by a common theme. The Fort Worth Livestock Exchange in the center of the district still functions the same way it did when it was built almost 100 years ago, but these days the Stockyards are more about good restaurants and a tipping of the hat towards history than anything else.
When you drive up Stockyards Boulevard, the main drag, you're presented with several things — not least of which is the classic roundup statue at the corner of Stockyard and Main.
I'm a sucker for a good bronze statue, because I've known artists who work with them, and I know how damnably hard it is to create them. This one's a masterpiece, and so are the others scattered through the stockyards.
Of course, right across the street is this Texas landmark:
That's right, Billy Bob's Texas, the self-styled World's Biggest Honkytonk. It's a fact that the world's biggest country stars play there on a regular basis, and it's supposed to have a dozen bars, multiple stages, and its own weather (okay, so maybe I'm exaggerating a little on that last one, but not much). I hear the food's not bad, either. I would have taken a gander inside, but I wasn't able to catch it when it was open. In fact, the whole district was pretty much dead when I visited, on a wintry Friday morning at 9 AM. Here's a shot of the main entrance to the Stockyards, which is literally right next to the main entrance to Billy Bob's.
The buildings you can see straight ahead and to the right are huge indoor mini-malls full of scads of little tourist shops of the sort that tourists tend to love. Naturally they were still closed when I stumbled into the Stockyards. I wasn't the only person wandering around that early, but by and large the place doesn't start hopping until after 11 AM. If you want to eat at one of the restaurants or try one of the attractions, it's a better idea to come later in the day than I did. And unless you're planning to go hang out at Billy Bob's, I'd recommend you enter by the more accessible and livelier Exchange Street entrance, seen here from the inside.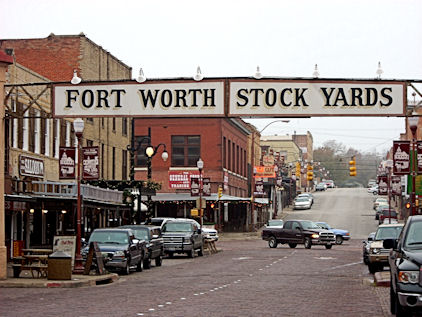 Among other things, if you head down Exchange Street you'll find cheaper parking over by the shopping arcade at the end of street, and you'll pass by the Visitor's Center on the way. The latter opens up by 9, thank goodness, and if you pop in the friendly staff will give you all kinds of information on where to go and what to do in the Stockyards. For example, you can take a walking tour — they're available every few hours — and you can see things like this:
Yep, they have a real live cattle drive twice a day. That's kind of cool, isn't it? It's not huge — the Stockyards aren't all that big these days — but it's something, and it really does happen, though I wasn't around to see it the day I visited. Just watch the piles of manure, okay? I'm not kidding. They clean 'em up, but they can't get <> every single cowpat and horse apple, if'n you know what I mean. In addition to the drive, you can get a ride on the Grapevine Vintage Railroad, which goes 'round and about the Stockyards. It costs about ten bucks (!) for adults, nine for seniors, and six for kids. In other words, way too much, but then again, I think it runs on gold or something. I could be wrong. Oh, and there's this thing, which is a cattle gate complex that's been renovated into a giant human maze. You can look at it for free, but it's $5.00 if you want to go inside.
Here's another statue I'm enamored with, one of three on the interior of the Stockyards. This is a man to whom half the people in Texas and Oklahoma claim kinship, and it's entirely possible because he had numerous wives and dozens of kids. Quanah Parker was the last war chief of the Quahadi Comanche, and he also served as a significant civil chief after the last of his people were rounded up and settled in and near Fort Sill, Oklahoma in the 1870s. He died in 1911. He wasn't an adherent of monogamy or Protestantism as it then existed; in fact, he founded the Native American Church, which uses the psychedelic drug peyote as one if its sacraments. The little town of Quanah in northwest Texas is named after him.
Interestingly enough, Quanah Parker was half-white: his mother was Cynthia Ann Parker, who was taken captive by the Comanche in 1836 at age 9. She was brought up Comanche and all but forgot that she'd been born white, eventually marrying a chief named Peta Nocona and bearing him three children. After she was recaptured in a raid with her daughter just before the Civil War, she found it impossible to reintegrate into white culture, and starved herself to death after her daughter died of an illness. Quanah was the only one of her offspring who survived childhood. I find him to be a compelling historical figure, fascinated as I've always been with Indian/white relations, and in fact I've written and published articles about him and his mother.
Incidentally, if you look closely at the above picture you'll notice a building in the background. That's a Hyatt Place Hotel, done up in faux Spanish Colonial. Yes, there's a hotel smack-dab in the middle of the Stockyards. I found it hard to believe too, but I suppose it's not a bad idea. It's just surprising, is all. I don't think it was there the last time I visited, about five years back. In any case, it's located just behind the Visitor's Center.
Something you'll see a lot of as you wander across the Stockyards are these round plaques set into the sidewalk, something like the stars in the Hollywood Walk of Fame.
Well, this is the Texas Trail of Fame, and it honors people who were important to Texas cowboy history, at least according to the Stockyards selection committee. You'll see the names of everyone from conservationists you've never heard of to down-in-the-dirt cowboys — and in some cases, famous Texas rodeo cowgirls like Tad Lucas. This one's for Enid Justin, one of the founders of Justin Boots, which are still made in Texas. I used to wear their Ropers all the time. Very comfortable, affordably-priced boots that could last through years of everyday use. (I mostly wear sneakers now, I have to admit).
If you get hungry while you're walking around, you can repair to what I call the Arcade, using the old sense of the word — it's kind of a covered (but not enclosed) mini-mall where you can wonder around and purchase overpriced Texas-themed doodads and, best of all, find good places to eat. I have no idea of the official name for it, but I do know that there are some dandy steakhouses and Mexican restaurants in the Arcade, along with a few holes-in-the-wall where you can get other types of food, not to mention tasty fudge. Of course, it was dead on the dreary day I visited, but I had fun wandering around looking. Incidentally, inside the Arcade is also where you get on the Grapevine Vintage train. Here's what the inside of the Arcade looks like, looking west along the train tracks.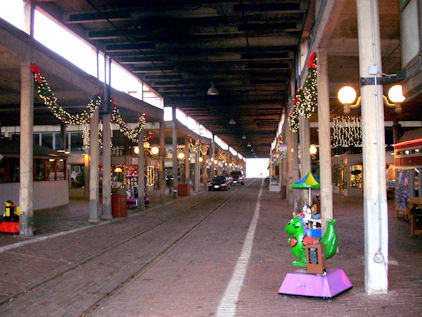 One last thing I want to mention before I close today is the Texas Cowboy Hall of Fame, which is located in a cavernous warehouse on Exchange Street, near the Visitor's Center. I'm not planning to go into it too deeply here, since the Hall of Fame will get its own entry anon, but I have to say that it's a treat if you're at all interested in cowboy culture, modern or historic. Or wagons. Especially wagons.
The Hall of Fame has to be big because it houses the Sterquell Wagon Collection, which includes everything from the stagecoach pictured above, to rickety little runabouts and sturdy drays, dump wagons, and milk wagons. They've even got a fully -equipped chuck wagon, not to mention a lovingly restored 1933 Cadillac roadster. The latter doesn't quite fit in with the rest of the collection, I'll admit, but it's a real beauty.
*******
In closing, let me emphasize that the Stockyards is one location you don't want to miss while you're visiting Ft. Worth. There's a lot more to see at the Stockyards than I have the space to show you or to write about; among other things, there are working cattle pens, a number of old arenas and coliseums, some pretty good art besides what you've seen here, and a much more extensive collection of Walk of Fame plaques. Rest assured, you'll find plenty to do here; if you're a fan of western culture, you can easily spend half a day in the Stockyards wandering around and absorbing everything. It's free to look in most places, and while the train and maze are a little pricy, most everything else isn't. Even the Cowboy Hall of Fame only costs five bucks to get in.